In recent years, there has been a growing trend towards eco-friendly fuel sources. With the increasing concerns about climate change and the greenhouse gas emissions associated with traditional fossil fuels, people are seeking alternative options to power their homes and businesses. One of the most sustainable and efficient solutions available today is biomass wood chip heating.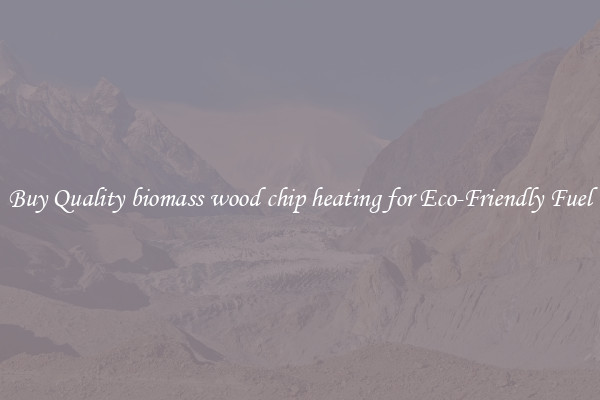 Biomass wood chip heating involves using wood chips as a renewable energy source to generate heat. These wood chips are typically made from organic waste materials such as forestry residue, sawdust, or agricultural waste. The wood chips are processed and then burned in a biomass boiler, which produces hot water or steam for heating purposes.
There are several reasons why biomass wood chip heating is a great choice for eco-friendly fuel. Firstly, it is a renewable energy source. Unlike fossil fuels, wood chips can be continuously produced as long as there is a sustainable supply of biomass. This reduces our dependence on finite resources and helps to preserve our natural environment.
Additionally, biomass wood chip heating is carbon neutral. When wood chips are burned, they release carbon dioxide (CO2) into the atmosphere. However, the amount of CO2 released is equivalent to the amount of CO2 that the trees absorbed during their growth, creating a balanced carbon cycle. This makes biomass wood chip heating a much more environmentally friendly option compared to fossil fuels, which release carbon emissions that have been stored underground for millions of years.
Furthermore, biomass wood chip heating helps reduce waste. By using organic waste materials, we are diverting them from landfill and turning them into a valuable energy resource. This not only saves land space but also contributes to a circular economy, where resources are used efficiently and sustainably.
When opting for biomass wood chip heating, it is crucial to buy quality wood chips. High-quality wood chips ensure efficient combustion and reduce the emission of harmful pollutants. It is recommended to source wood chips from a reputable supplier who follows sustainable forestry practices and uses certified biomass fuels.
In conclusion, biomass wood chip heating is an excellent choice for eco-friendly fuel. It is renewable, carbon-neutral, and helps reduce waste. By investing in high-quality biomass wood chips, we can contribute to a cleaner and more sustainable future. So, let's embrace this environmentally friendly alternative and make a positive impact on our planet.